It was a pretty cool weathered day, and we were feeling something hearty and comforting for a Monday night dinner. I love bolognese and thought I would try making it with chicken. This is definitely going into high rotation at our house. Mix it up by using different types of noodles. Toasting the seasoning as well as the tomato sauce added a lot of depth and flavor, so this is a quick dish to whip up when you don't have all day to spend simmering a tomato sauce.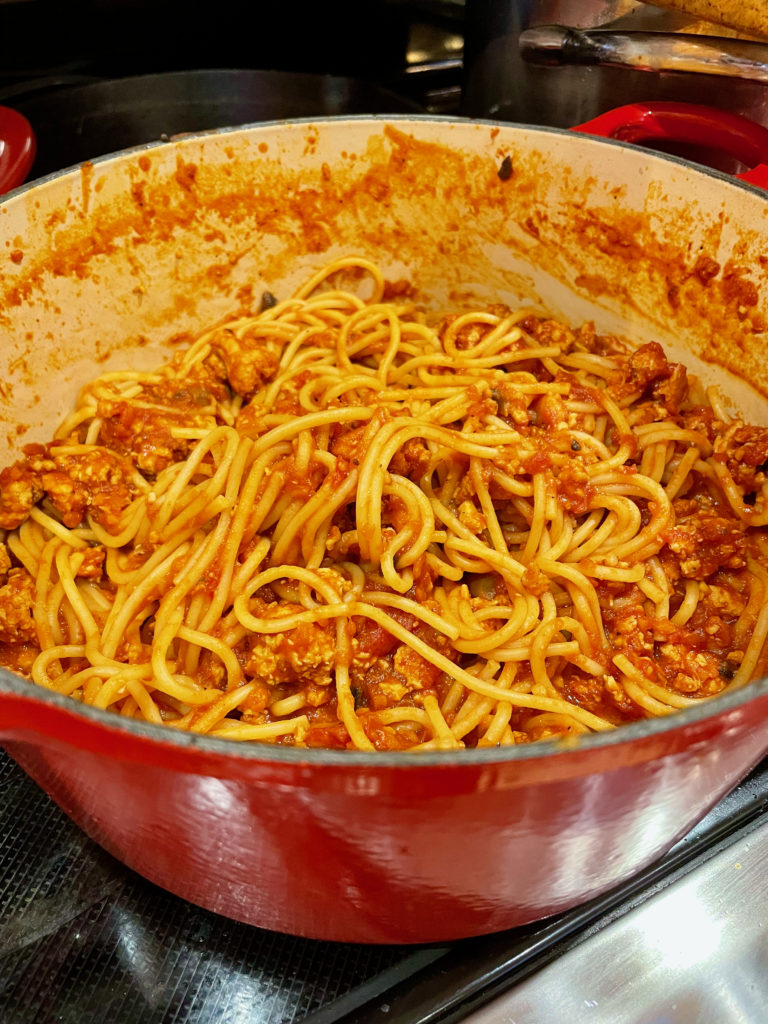 Print Recipe
Barb's Chicken Bolognese
A pretty lean but hearty pasta dinner
Servings: 6 people
Ingredients
2 tbsp butter
2 chicken breasts, ground
1 medium carrot, finely chopped
½ white onion, finely chopped
2 cloves garlic, minced
1 tsp Italian seasoning
1 can tomato paste
½ cup dry white wine
½ bottle of pasta sauce
salt and pepper to taste
1 lb spaghetti
Freshly grated Parmesan, for serving
Instructions
Melt butter in a large pot over medium-high heat. Add the chicken, use a wooden spoon to break up the meat and cook until the chicken has browned, 5 to 7 minutes. Add the carrots and onions and cook until the vegetables are tender, 7 to 8 minutes. Stir in the garlic, chili powder, Italian seasoning and toast the spices, 1 to 2 minutes. Add in the tomato paste and let brown on the bottom of the pot, 1 to 2 minutes

Stir in the white wine and simmer until the wine has been absorbed into the meat. Add the tomato sauce, salt, pepper and 1/2 cup water. Cover and simmer over medium heat, stirring occasionally, until the sauce is nice and thick, about 20 minutes.

Once the sauce is simmering, bring a pot of salted water to a boil. Cook the spaghetti to just under al dente according to the package instructions. Drain the spaghetti, and save some of the pasta water. Toss the spaghetti with the sauce. Add pasta water to loosen sauce if necessary.

Serve with freshly grated Parmesan. Enjoy!