We never need a reason to go on vacation, but celebrating a baby on the way was a great reason! Babymoons are similar to honeymoons in that it's a special occasion vacation and couples can enjoy quality time together before baby arrives. We decided to head to Vancouver for our babymoon, because we didn't want to be too far from home in case anything happened. The Fairmont Pacific Rim was the perfect choice for our stay, and we did a mix of visiting old favorites and trying new things on our trip!
Vancouver BC was the perfect place for our babymoon. Having lived there for so many years, it meant that we didn't need to have a huge itinerary for places or things to check out, and we could enjoy some familiar eats as well as try new (to us) places. We took the pups with us and stayed at the Fairmont Pacific Rim. The hotel is in a great location, dog-friendly, and we wanted to feel pampered. It would have been nice to go to the Willow Stream spa together, but when we called several weeks in advance, there was no availability for any services we wanted to do together. It's one of my all time favorite spas because they have a co-ed lounge to relax in. The rooftop patio with hot tubs and views of the water also make it a pretty nice experience.
We had amazing dinners at Botanist and Elisa. Botanist is west coast contemporary cuisine, and it was perfect because it's at the Pacific Rim so we didn't have to go far for all our breakfasts or dinner. Elisa was a first for us, they call themselves a contemporary steakhouse and we loved that they have a wood-fire grill. The food was divine and we loved the little custom dessert message for us. We discovered tacos at a stand in the Granville Island Market, because we were there getting Granville Island Pet Treatery treats for Mia and Louie. And we also enjoyed more Mexican food at Cantina on our last day.
On this trip, we also went for maternity photos with Liliya Lubenkova Portraits. I was so happy that she had availability and so we spent some time at her studio getting photos done together, with Mia and Louie, and well as some solo images. It was a really lovely experience and I'm so happy to have captured this moment in our lives as well as my body going through this pregnancy.
Enjoy our photo diary!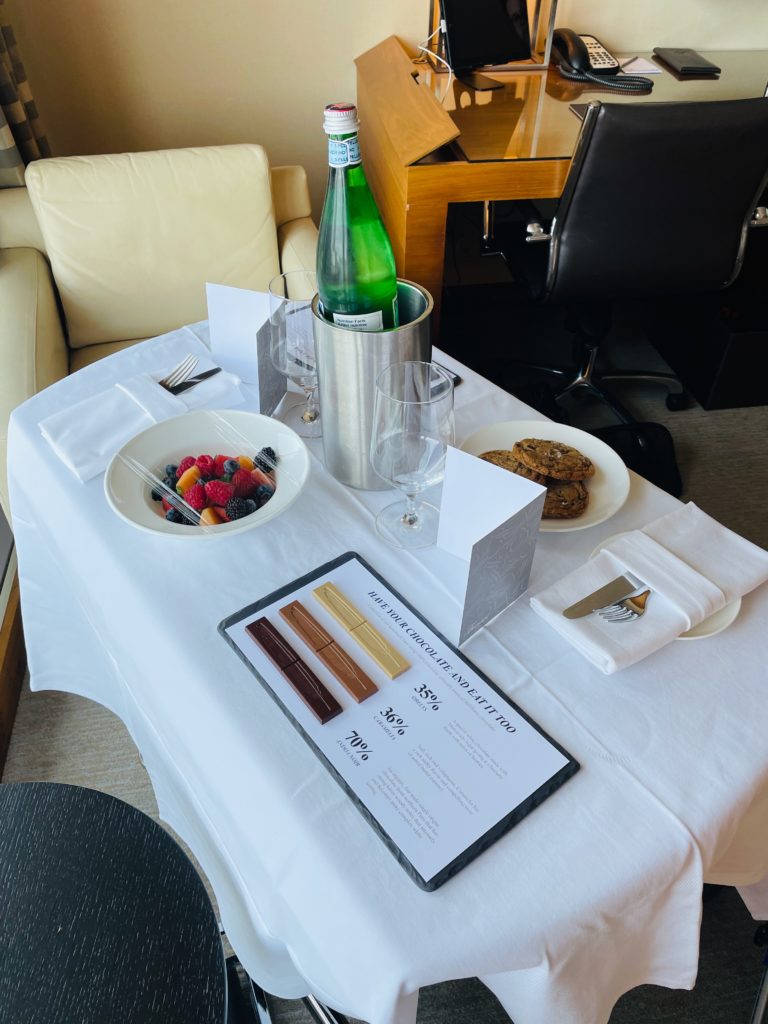 Happy Hour in our room