I finally got a paddleboard this summer. Justin has had his inflatable paddleboard for a number of years now, and I haven't been interested until recently. Paddleboards were hot commodities this year, and so when we saw more stock come online, we pounced on the purchase. I definitely regret not getting one sooner, as paddleboarding really is a great way of keeping cool in the heat of the Okanagan. Now that paddleboarding season is wrapping up (for me at least, I'm a fairweather paddler), I thought it would be fun to do a photo diary recap. Enjoy!
The reason I finally got a paddleboard was that there are now these kayak/paddleboard hybrids! I think I prefer sitting while out on the water. I went paddleboarding with a friend and she lent me one that I ended up loving and I bought a similar version. My board has extra connection points so that I can connect a seat to the top of the board and footrests for leverage when kayaking. If I don't feel like sitting or want to try standing for a bit, I can remove the seat and convert my oar into a paddle.
We also picked up new floatation devices. I'm all about safety. I know how to swim but I won't take chances. Both Justin and Louie have their own lifejackets, and I needed one of my own. It was an extremely hot summer, and we didn't think that the traditional jacket style flotation device would really work for us. My friend recommended Mustang Survival as they have these fanny pack-type flotation devices. It goes around your waist and uses a CO2 cartridge to inflate the bladder. Once it's inflated, you pull the top strap over your head while the other strap stays buckled around your waist.
I didn't want to get analysis-paralysis so we made an impulse decision to go with Mustang Survival. I'm really happy with the product so far, and I am also really impressed with Mustang Survival's customer service. I actually broke one of the safety pins when I was testing my device, and they were great to correspond and sent me a new one!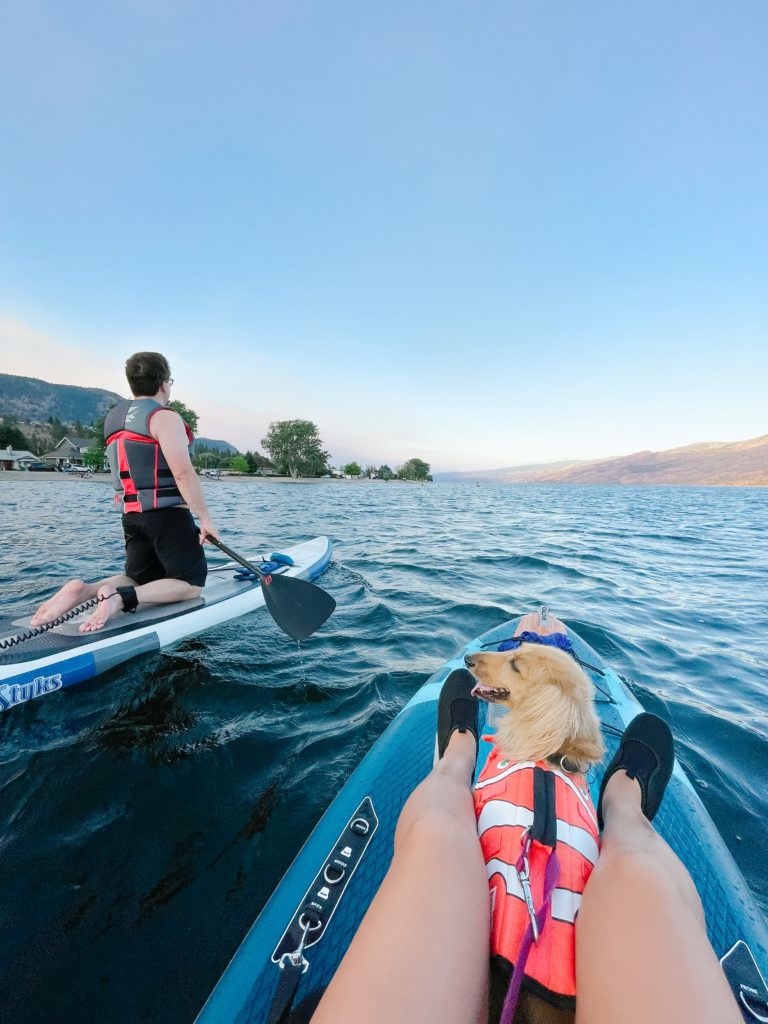 Mia has been paddleboarding before, but we've never taken Louie until this summer. Louie wears his own life jacket and I keep him leashed to my waist. Louie seemed to really enjoy being out on the water, and even jumped in to go after Justin. His back legs don't work that great on land, but swimming is really good for him. We got out quite a few times this summer, but not as much as I would've liked. The 2021 summer was pretty rough, it was quite hot for a good chunk of it (at times reaching 49C for us) or it was too smoky to be outside for a significant amount of time. Here's hoping for many more paddleboarding days in 2022.