Beer was on the mind. We're training for our first 25km trail race this coming April, and needed to get some more distance and elevation in for our Sunday long run day, so we turned to Knox Mountain. We had already covered 5-6 miles that morning on the treadmill, and needed a bit more time on our feet. There was still plenty of snow on Knox, so we decided to go all the way to the top on Apex Trail, and take the roadway down. Then the post run and exercise great was going to be hitting up Vice & Virtue Brewing for a nice post hike beer afterward, and we so excited to be able to find a parking spot right out front but then saw they was closed! Their Sunday hours are something like 12-5. So we decided to check out Red Bird Brewing instead. It was perfect because we had never been to Red Bird Brewing before!
There's only a few parking stalls out front and there's a little patio that has a couple tables which I would assume is going to be awesome for summer. When you going inside there are a few long tables throughout the tasting room. The way they have the place laid out is you go up to the bar to order your drinks. They have their menu printed out on wood panels behind the bar so you can see what to order. They didn't have a tasting flights listed, so we asked and found out they actually did offer tasting flights, 5 ounce glasses for $8. We both got tasting flights so we could taste their entire offering and have a variety of beers. They drew them up pretty quickly and after we paid we went to get ourselves a seat. It was actually really quiet in the tasting room so that was kind of nice. Farthest from the bar, or to the left when you walk in, you can see some brewing tanks behind these glass cupboards. I don't have much experience with brewing other than tasting and drinking beer, but they looked like pretty tiny tanks so I imagine they are just for display.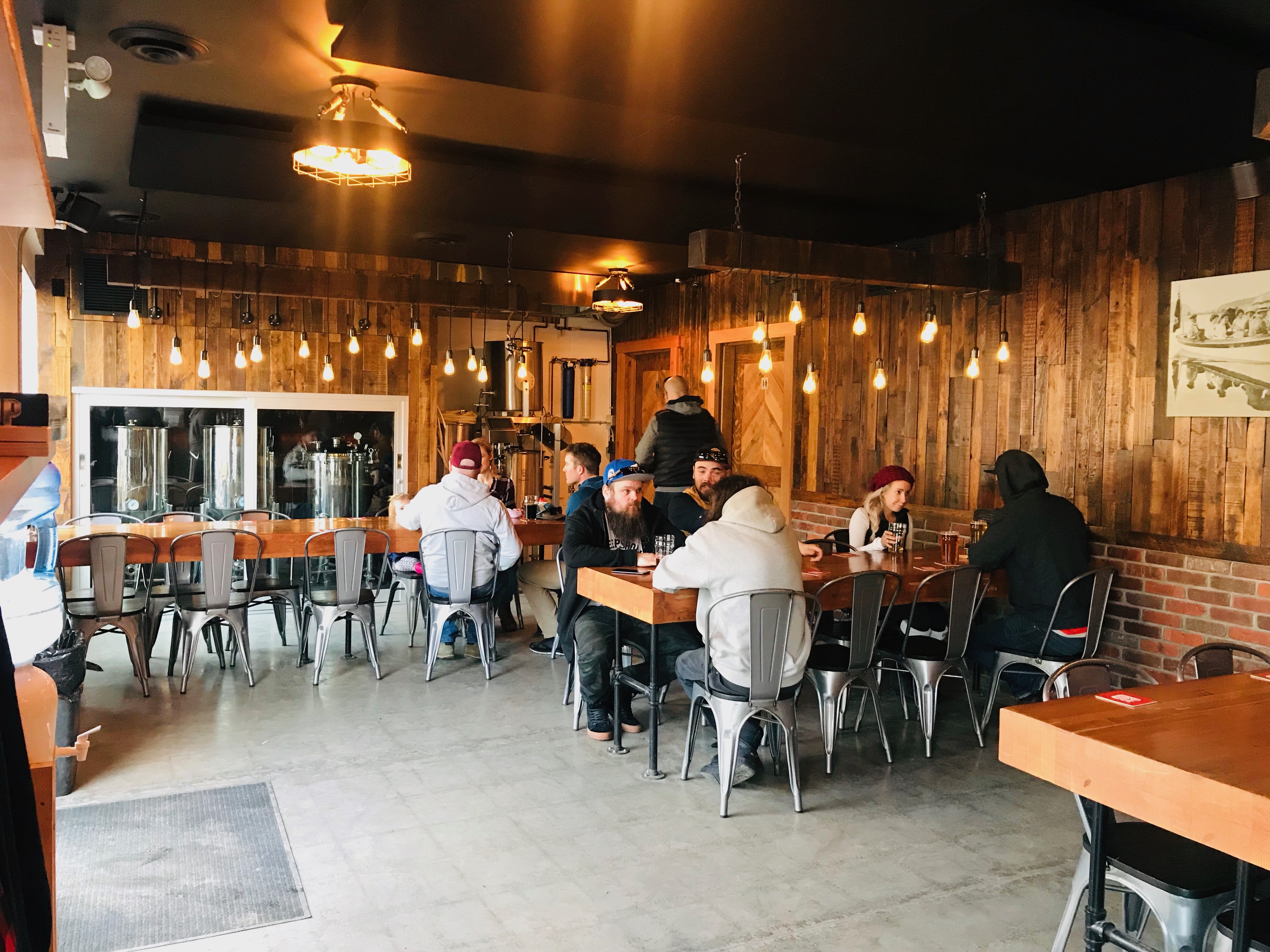 Overall really nice vibes in the tasting room, I can imagine it getting pretty loud in the summertime but since it was a Sunday with Spring just around the corner, it was pretty quiet and easy to find seating. All of the beers were super tasty, and so it's safe to say there'll be plenty more Knox Mountain hikes and post-hike beers come the summer.