Here's a nice combo for lunch. Baked sweet potato on a dilly tomato-cucumber salad with Foul Mudammas (Egyptian Fava Beans). It's a Mediterranean-inspired lunch. Quick to make and full of flavor!
Work on the Foul Mudammas first, because it needs a few minutes to simmer with water and olive oil. The salad is quick to assemble. Romaine, tomatoes, cucumbers, with 1/2 lemon and dill.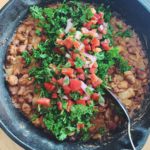 Print Recipe
Warm Fava Beans
This is essentially Foul Mudammas or Egyptian Fava Beans. Use canned fava beans for the fastest preparation. This dish is full of flavor, and goes well with salad or warmed pita bread.
Servings: 2 people
Ingredients
1 can fava beans
½ cup water
1 tsp ground cumin
½ onion, chopped
1 tsp garlic powder or 1-2 cloves fresh garlic
½ lemon
extra virgin olive oil 
1 cup parsley, chopped
1 tomato, diced
Instructions
Fry chopped onions in a cast iron pan with some oil.

Drain the fava beans, and pour into a cast iron pan with ½ cup water, cumin, and garlic. Warm over medium heat. Use a potato pasher or the back of a wooden spatula to smash some of the fava beans.

Take off heat. Cover with a generous drizzle of olive oil.

Top with chopped parsley and tomato. Finish with lemon juice, salt and pepper all over.

Enjoy!